Posted by Anthony Frasca on Jan 29th 2021
If you're an owner of a gas station, convenience store, or a mechanic's garage, then look no further for expert advice on which light fixtures are ideal for lighting up your commercial property. From ceiling lights to wall fixtures, and even cooler door lights, we have the recommendations and products available to aid your lighting needs.
While gas stations may have similar lighting needs, we also know there are unique circumstances that require more options.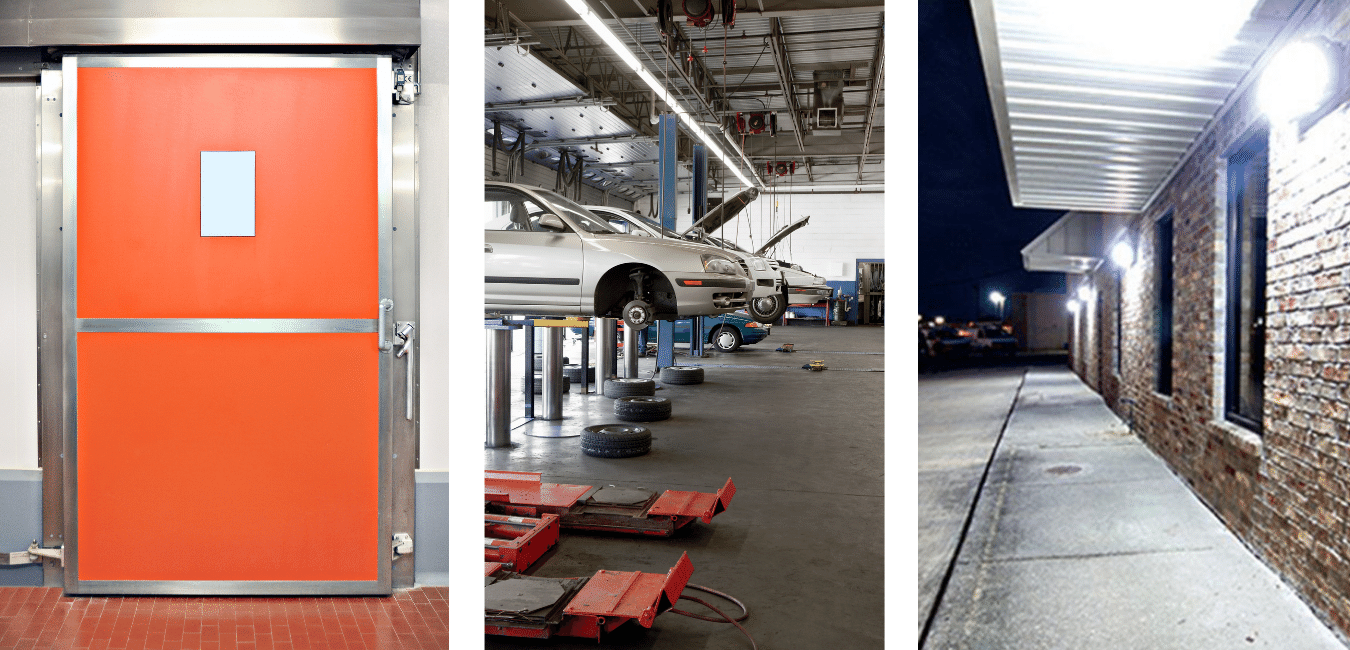 Types of Gas Station Lights
Let's start with the basics: LED lighting can significantly improve gas stations by reducing energy expenses while lasting for significant amounts of time. Lighting and Supplies can help you design a complete system of LED lighting that lasts for years and meets your budget requirements, with a wide selection of products.
There are many reasons LED gas station lights are better than conventional lighting solutions, and installing one of the options below can allow you to redistribute more of your budget to other areas of your business, while reducing maintenance costs and requirements.
Let's dive in.
LED Canopy Lights
A system of gas station LED canopy lights can last for years and provide sufficient lighting during open hours for customers and employees. LED street lights are also ideal for gas station perimeters. Using a combination of LED lights on the premises, you'll be able to experience lower expenses almost immediately.
Whether you need gas station LED canopy lights, gas station streetlights, or other systems for your property, we have everything you need and can make sure you get consistently great results from our products for many years.
Vapor Tight Lights
Commonly referred to as "wet location" fixtures, vapor tight light fixtures are sealed and gasketed luminaires that provide general illumination for indoor and outdoor environments where exposure to water, humidity, and dust is likely to occur. These luminaires are usually mounted on ceilings, soffits, walls, or in any other commercial and industrial building or facility where exposure to water or dust (or other elements) is a concern.
For gas stations, vapor tight light fixtures are ideal for withstanding common and harsh weather conditions. Their brightness and resilience to the elements can reduce maintenance costs if this is a common issue for your overhead gas station lighting.
Interior Strip Lights, Tape Lights, Ribbon Lights & Cooler Door Lighting
An LED strip light is a flexible circuit board populated with surface mounted light emitting diodes (LEDs) that usually have adhesive backings to allow easy installation. They can be applied, almost anywhere, with peel-and-stick adhesive. For more complex installations, channel guides and mounting accessories are available. LED strip lights are also known as LED tape lights or ribbon lights.
Strip lights are perfect for the interior of a convenience store that wants more window lighting, shelf lighting, and even cooler lighting for bags of ice or even walk-in freezers. These fairly decorative lights are perfect for those with a more creative spirit, so have fun with these types of options!
Area Lights
LED Area Lights are the choice for area and site lighting applications including downtown areas, hospital grounds, college campuses, shopping malls, business complexes and, of course, gas stations and convenience stores! These outdoor lights provide reduced offsite visibility, as well as effective security light levels with symmetric and asymmetric distributions. They can yield a significant reduction in system energy compared with standard HID systems and virtually eliminate ongoing maintenance expenses.
For those late-night gas-goers who may need air in their tire, or simply a full tank of gas, area lights are satisfactory solutions for both petroleum station owners and their customers. These lights are especially essential for gas stations with car service station bays or garages where customers' cars are parked overnight, which provides an added layer of security and warding off any ill-motivated individuals.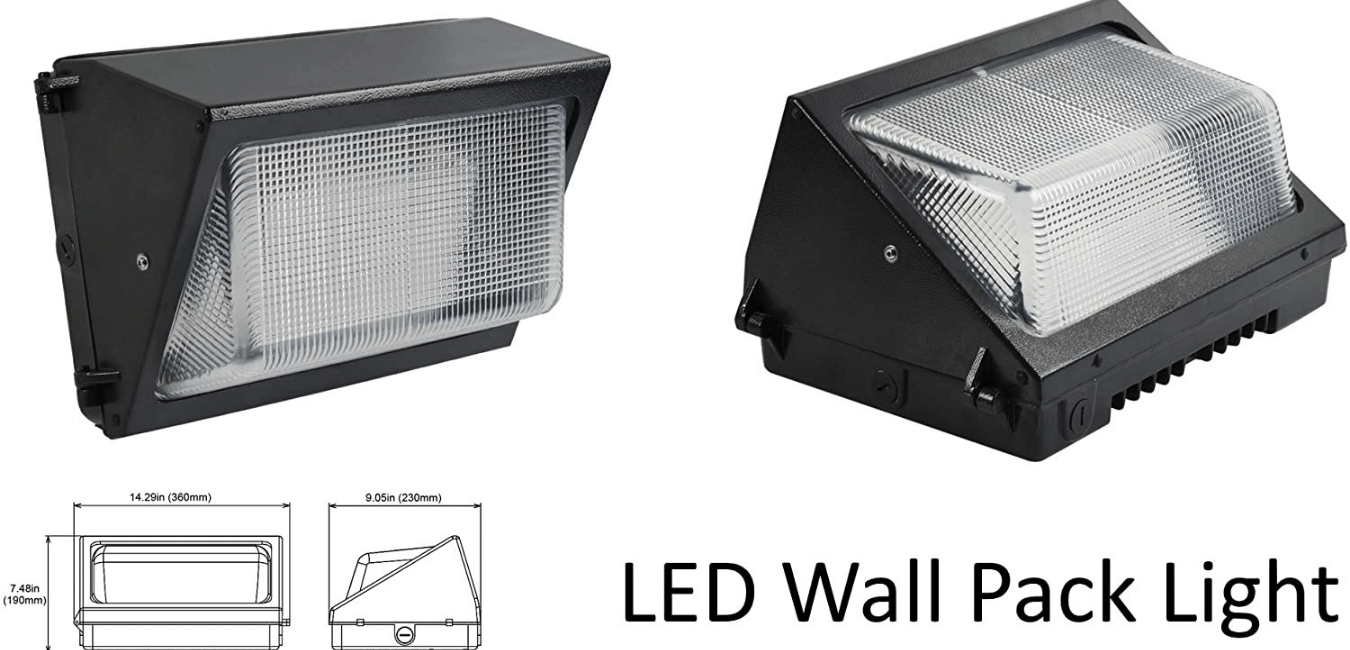 Wall Packs
Wall packs are wonderful fixtures for your location. When it comes to installing good quality outdoor or exterior lights, we all prioritize on security and hence go for the best available in the market. The wall pack lights are also an integral part of outdoor lighting systems that are set up on the outside facing walls of buildings. These lights keep an area safe at night for vehicles and pedestrians. The property owners get security and can easily trace any sort of theft or other issues that happen mostly at night. These wall pack light fixtures are installed on the walls to provide lighting around the grounds.
Different types of Wall Packs
Keep in mind that there are a few different options of wall packs for gas stations and other exterior commercial applications. We also highly recommend going with LED wall packs, as they are ideal for saving money on electricity, while also having a long lifespan.
The Traditional LED Wall Packs
The light life of the traditional LED wall packs is about 50,000 or 100,000 hours and are available in a wide array of varieties, manufactured by leading brands. These are the most commonly used LED wall packs that are definitely more energy efficient than metal halide lights. Generally, the wattages range from 24w to 96w and are not highly expensive as well.
The LED Cut-Off Wall Packs
the LED cut-off wall packs are great for illuminating outdoors and specially designed for public places like hospitals, schools, commercial buildings. These lights remove rising radiance contamination of the sky during nights. These wall pack lights are again energy efficient and definitely required little or no maintenance cost in the long run.
The Dusk to Dawn LED Wall Pack Lights
If you solely want to keep the property of yours safe and your customers protected, then the dusk to dawn LED wall pack lights are the best. These are lights used for security purposes and are available in different color tones, wattages ranging from 15w to 40w, and light life between 25,000 and 100,000 hours. These are designed with care to make sure that they are durable and damage resistant.
Replacement Gas Station Light Fixtures
While you may not need to purchase a large quantity of the light fixtures for gas stations we outlined above, sometimes you only need one or two replacement gas station light fixtures because of regular wear and tear.
As you know, gas station lights, as well as the light fixtures within the convenience store, are typically illuminating 24/7/365, so those 50,000 – 100,000 wattage hours can add up quickly. If you're just looking for a replacement fixture for a broken or non-working light, we have plenty of options to choose from and can help with installation tips.
The Benefits of Using LED Lights for Gas Stations
We mentioned the positives quite a bit throughout this article, but we wanted to include this section specifically to highlight all the wonderful benefits that LED lighting can provide to your gas station.
While the most obvious benefit of LED lights is lowered energy costs, there are many other reasons why you should utilize an LED lighting system. These benefits include:
Longer life span, with bulbs lasting up to 100,000 hours, or 11 years on continuous operation, and 22 years on 50% operation
Ecological friendliness, as LED bulbs lack toxic chemicals typically found in conventional bulbs.
Durability with sturdy components that are rugged and capable of withstanding harsh weather conditions
No UV emissions and minimal infrared light
Design flexibility, with the ability to combine shapes and dim them to produce efficient illumination
Functionality in extreme hot or cold environments
Sufficient distribution of light with the ability to focus on certain areas
Frequent switching and instant lighting
Low-voltage power supply which makes it easy to use them in outdoor settings through an external energy source
Need to Buy Lighting For Gas Stations?
These benefits make LED lights invaluable for gas stations and many other locations that may otherwise spend more than they need to on lighting systems. As a reliable LED gas station lights supplier, Lighting and Supplies stands behind all of the benefits listed above with each product, or your money back guaranteed!
Have questions or an upcoming lighting project? Contact us today for advice on lighting design, lighting rebate programs, or just some suggestions on which gas station light fixtures we recommend for the average project.
Call us Today: 888-325-4448