Hazardous Location Lights
WHAT IS HAZARDOUS LOCATION LIGHTING?
Hazardous location lighting is a light fixture that's you can use safely in an area where it's likely that a fire might start. This area is also referred to as a hazardous area or hazardous location. In a hazardous location, explosion and fire hazards are present.
These hazards can be fibers, dust, vapors, and gases. All of these hazards are flammable, especially in the presence of a light.
Because of high temperature or electrical arching, electrical equipment could be an ignition source when installed. Fortunately, there are regulations and standards in place so that people can classify these hazards identify these locations.
Additionally, there are regulations and standards that have been set for equipment that's been specially designed to be safe for use in these areas.
Regulations for hazardous location lighting are incredibly important. That's why, when you're choosing your light fixtures, you need to be sure that they're certified for use in these hazardous areas.
HOW ARE HAZARDOUS AREAS DEFINED?
To choose the right HazLoc lighting fixtures for you, it helps to understand how to define hazardous areas. When you're defining a hazardous area, you're deciding how likely it is that there will be combustible material that can burn up in a specific area to define it.
Because there are different types of hazardous areas, there are different ways to identify them. These include the North American Division System and the Class System. Additionally, you can split up some of the Class System types into Groups.
1.) HAZARDOUS LOCATION DIVISIONS
When it comes to hazardous location divisions, there are two of them: Division 1 and Division 2. Division 1 includes liquid-produced vapors that are combustible, flammable vapors that are liquid-produced, and flammable gases that are flammable because of how they are concentrated. During normal operating conditions, these vapors are always present.
Division 2 includes the same types of vapors and gases as in Division 1. However, when it comes to normal operating conditions, they are rarely present.
It's important to note that you use Division 1 to define areas that are slightly more hazardous when it comes to potential fires. In these areas, it is absolutely essential to take the right safety precautions.
In Division 2 areas, the area is slightly safer than Division 1 areas. This is because workers in these areas are controlling and containing the ignitable elements with systems such as proper ventilation.
However, it is still key to use the correct HazLoc lights for these areas.
2.) HAZARDOUS LOCATION CLASSES
With the Class System, you divide the materials up by type. There are three classes: Class I, Class II, and Class III. Class I includes combustible vapors that are liquid-produced, flammable vapors that are liquid-produced, and flammable gases.
Class II includes combustible dusts. Class III includes ignitable flyings and fibers.
3.) HAZARDOUS LOCATION GROUPS
Within the Class System, you split materials into different Groups. These Groups include Groups A, B, C, and D in Class I and Groups E, F, and G, in Class II. Here's how they're defined, specifically:
Group A: Acetylene
Group B: Hydrogen
Group C: Ethylene
Group D: Propane
Group E: Metal Dusts
Group F: Carbonaceous Dusts
Group G: Non-Conductive Dusts (these include plastic, wood, grain, flour, etc.)
Note that the groups in Class I (A-D) are gases. Group A has the highest explosive pressures, and as you go down the list toward D, they become less explosive. However, they are still potentially explosive.
As for the groups in Class II (E-G), these substances vary. However, they all include dusts that could potentially light on fire.
Once you know how to identify all the different divisions, classes, and groups, you will know which HazLoc safe lighting types you should use in each location. This will ensure safety for anyone using lights in these Hazardous Locations.
Globally recognized hazardous locations Certification for North America
The UL brand is highly recognized in North America and accepted by certifiers, installers and regulators in local, regional or international markets. Leverage our global brand acceptance and trust to add value to your innovations.
You can benefit with faster time to a global marketplace with the UL certification process, not only do we understand the requirements – we helped develop them. In fact, we participate in over 50 Standards writing committees, such as: TC31 (IECEx), UL STP (North America), NFPA, API, BSEE and CFR committees.
UL and C-UL hazardous areas Certification for North America overview
UL and C-UL Certification services for HazLoc include:
Evaluation and testing
Ordinary Location/Safe Area Requirements – Certification for risks associated with shock, fire and personal injury.
Hazardous Location/Explosion Protection Requirements – Certification based on area classification and explosion protection methods for either Division or Zone installations. A Hazardous Locations Certified product must comply with both ordinary location and hazardous locations requirements in accordance with U.S. UL and American National Standards Institute (ANSI) and CAN Standards.
Production control
In accordance with the Occupational Safety and Health Administration (OSHA) and Standards Council of Canada (SCC) regulations, four production inspections per year at a minimum.
What is a hazardous location?
Location where explosion or fire hazards exist due to the presence of flammable gases, flammable or combustible liquid-produced vapors, combustible dusts, or ignitable fibers or flyings.
How are hazardous areas classified?
Area Classification – Hazardous Locations are classified by the likelihood of an ignitable concentration of combustible material being present. There are two systems in place, including the traditional North American Division system as well as the alternative Zone system. See below for further details:
Division system sample marking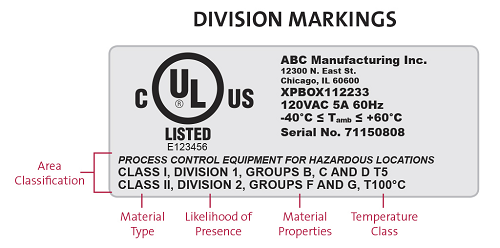 Zone system sample marking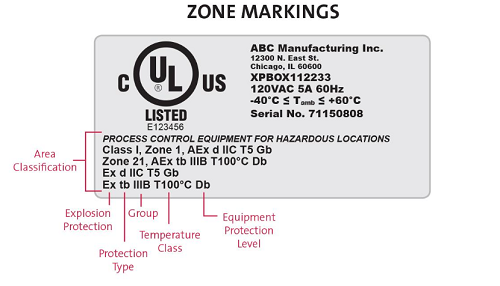 Top-Rated Hazardous Location Lighting Authorized Dealer & Supplier
Lightingandsupplies.com is a lighting distributor of Indoor & Outdoor Commercial and Residential light fixtures and light bulbs. Based in the US, we carry the top LED lighting brands like EiKO, RAB Lighting, MaxLite, naturaLED, Westgate Lighting and more of the Top Lighting Manufacturers in the United States. We also carry a wide variety of Horticulture products by Hydrofarm, along with ceiling fans by RP Lighting+Fans. Lightingandsupplies.com also provides rebate programs, expert lighting design advice, and lighting audits for large projects. As a wholesaler, authorized dealer and bulk distributor of lighting products, we take pride in our customer-focused 100% satisfaction guarantee and return policy.
For more information, call 888-325-4448 or email: [email protected].